McBride Runs Record Speed, Ends Season with a Victory
Top Fuel Motorcycle icon Larry "Spiderman" McBride is like a fine wine. He just keeps getting better with age.
The 49-year-old eighth-time AMA/Prostar champion scored his seventh win of the season and recorded a record speed of 246 mph at the National Finals from Gainesville Raceway in Gainesville, Fla, November 9-11.

Although the end result was typical, this event was far from ordinary for The Spiderman. For the first time all season the team would be fielding more than one entry. McBride's teammate and 2005 AMA/Prostar Top Fuel champion Jimmy "The Hulk" Brantley decided to enter the category for the first time since last season's National Finals.

The reunion of McBride and Brantley in Gainesville got off to an inauspicious start when Brantley's motorcycle became stranded in North Carolina two days before the start of the event.

Brantley's bike eventually arrived safely at the famed North Central Florida launch pad in time for opening qualifying, which brought the total number of entries up to five - a category high for 2007. It was the best turnout since the 2006 National Finals when seven motorcycles entered Top Fuel competition.

For the eighth consecutive time this season McBride took the pole position. This time he accomplished the feat with a blast of 5.94 at 234 mph.

"The track was awesome," McBride said. "It was extremely good. We had a great crowd of people, a great field and a really good track."

Brantley didn't fall far behind as he secured the No. 2 spot with an impressive run of 6.07 at 224 mph.

In opening eliminations McBride put an aggressive tune-up in the bike for his bye run which resulted in him running low elapsed time of the weekend at 5.87 and a record speed of 246 mph. The 246 mph surpassed McBride's AMA/Prostar record of 245 mph, set in Valdosta, GA, in March of 2006. However, McBride would be unable to back up the 246 mph within one-percent to make it an official record.

In round No. 2 McBride ousted Chris Hand with a 5.94 at 236 mph to Hand's 6.25 at 218 mph to advance to the final to take on Brantley.

Brantley had been having trouble smoking the tire off the line so the team was poised to makes some changes for the final.

"We figured something out right before the final and that's why he (Brantley) almost kicked my butt," McBride said. "It was a combination of a few things. We made a new barrel valve for Jimmy's bike and the exhaust temperature was getting too high. It was trying to leave with too much horsepower. We changed the clutch also. We couldn't pinpoint the exact problem but we knew it was a combination of the clutch and the fuel."

The team's adjustment was clearly evident in the final as Brantley soared past McBride during the outset of the race.
"Jimmy was on a hell of a pass in the finals. I cut a little bit of a light on him and then he drove around me like I was putting on the brakes. I went 3.91 to the eighth and he went 3.78," McBride saidLarry 'Spiderman' McBride
McBride cut a .160 reaction time, ran a 1.01 sixty-foot time, and clocked a 2.63 330. Brantley cut a .170 light, ran a 1.00 sixty-foot time, and moved past McBride with an impressive 2.57 330. Brantley's eighth-mile mph was 202 mph compared to McBride's half-track speed of 197 mph.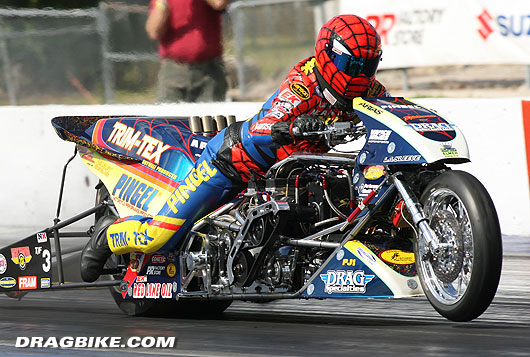 Photo by Matt Polito, www.dragbikephotos.com

It appeared Brantley was headed for a victory and quite possibly a record run in the 5.70-zone. That is until Brantley got out of the groove and was forced to let off the throttle on the top end. McBride got back around and was able to take the win with a 5.91 at 239 mph to Brantley's 6.13 at 175 mph.

"The bike got ahead of him again and he had to shut it off. He did the right thing," McBride said. "We can only wonder how quick it would have been. Think about it. I ended up going 5.91 at 239 mph and he was driving around me."
After the race McBride said Brantley has decided to take his bike off the market for now and dispelled any rumors that machine was headed for Australia after the event.

"It's definitely off the market. We decided we don't want to sell it right now. Jimmy never really wanted to sell it. The idea was for him to get rid of the bike so he could focus all of his energy into work, but now he loves racing again," McBride said.

A few days after the event McBride flew to Las Vegas for the AMA Awards banquet, where he will be crowned with an unprecedented eighth AMA/Prostar Top Fuel championship.

"It's always a real good time in Vegas. I'm going to take the whole family," McBride said. It really was an awesome season for us. We had a great time."
The team thanked; Pingel Enterprise, Trim-Tex Drywall Products, Drag Specialties-Parts Unlimited, Red Line Synthetic Oil Corporation as well as his other sponsors:

Vance & Hines Motorsports, PR Factory Store, Muzzys Performance, Web-Cam, Kibblewhite, Ferrea Valves, Precision Machine, Vanson Leathers, Performance Machine, Belt Drives Ltd, Street & Competition, Traci Dynamics, Simpson Race Products, Nitrous Express, APE, EK Chain, Arias Pistons, R/D Spring Corp, Autolite, MSD, Protect ALL, Whipple Industries, Cometic Gaskets, B&J Transmission, Carolina Cycle, L.A. Sleeve, PJ1 Nology Engineering, Mickey Thompson Tires, Corbin Seats, Stark Masonry, and Valco