Monumental Weekend for Team Spiderman at Prostar Finale

Team Spiderman put on a show at the AMA/Prostar finale that won't soon be forgotten.
Larry "Spiderman" McBride earned an unprecedented seventh career Top Fuel championship and teammate Jimmy 'The Hulk" Brantley recorded the quickest dragbike run to-date with a mesmerizing blast of 5.80 at the National Finals from Gainesville, Fla. Nov. 3-5.
"It was an amazing end to an amazing season," said McBride moments after defeating Brantley in the final with a pass of 5.99 to Brantley's centerline foul. "I have a great teammate who pushed me the entire year. This is the kind of competition the class needs."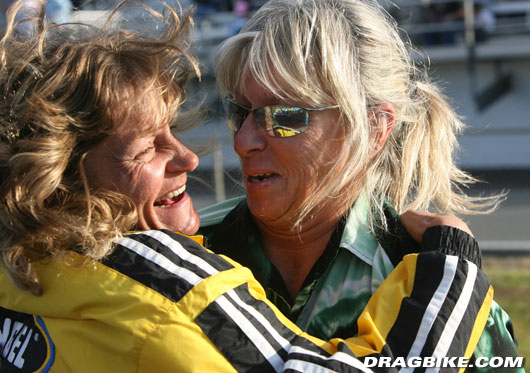 Mrs. McBride and Brantley Celebrating after the 5.80 pass!
Combined the duo produced an astounding nine five-second runs. McBride's worst pass of the weekend was a 6.02 – a number that has only been surpassed by McBride and Brantley.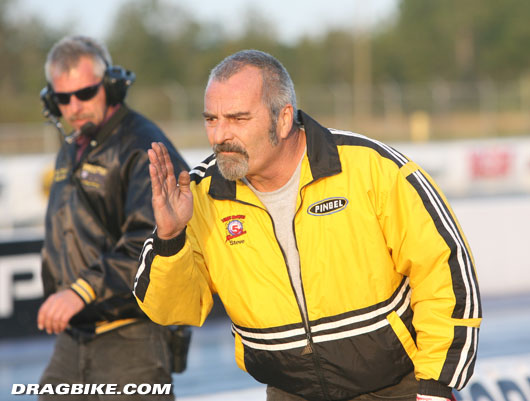 Steve McBride Lining Up Larry
Although Brantley, who finished No. 2 in the points, was unable to officially back-up the 5.800 within one-percent, the prestigious time ticket still entitles him to some serious bragging rights. The run surpassed McBride's record of 5.809 from Dinwiddie, VA, earlier this spring.
"It was such a strong pass," Brantley said. "It left really hard and just kept pulling. I knew it was quick but I didn't think it was going to be the quickest ever. I give so much credit to Larry and the entire crew for making it happen."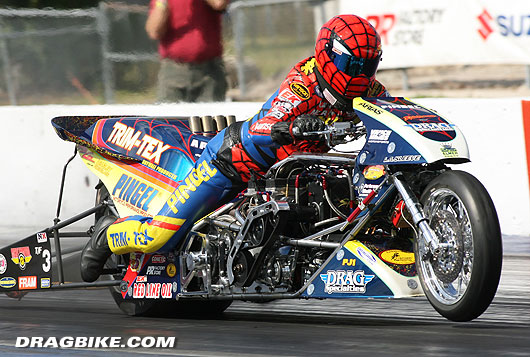 Larry 'Spiderman' McBride
Crew chief Steve McBride, who tuned Brantley to a No. 1 plate last season, now lays claim to eight AMA/Prostar championships and added, "The air was superb and the track was so good I was tearing up tires all weekend. We had it set up to run a number for Jimmy, but I was still shocked to see the 5.80 come up on the scoreboard. He did an outstanding job."
For McBride the championship comes on the heels of a season in which health complications nearly ended his career.

"It was humbling," McBride said. "I can't tell you how much it means to be back out here with all of these great people and a great teammate like Jimmy."
McBride and Brantley plan to follow the entire circuit next season. McBride is hoping to add a few more names to the Top Fuel entry list in the near future.

McBride said, "We are very excited over the changes in Prostar and the fact that Bruce Sauer will be working as racing manager next year. We hope to see this class continue to grow. We'd love to see an eight bike field at every race."

Steve McBride said, "Larry and I will be busy finishing another customer's bike this winter. We're very excited for 2007."

McBride went on to thank all of the dedicated sponsors that have supported the team over the year.

The team thanked; Pingel Enterprise, Trim-Tex Drywall Products, Drag Specialties-Parts Unlimited, Red Line Synthetic Oil Corporation as well as his other sponsors:

Vance & Hines Motorsports, PR Factory Store, Muzzys Performance, Web-Cam, Kibblewhite, Ferrea Valves, Precision Machine, Vanson Leathers, Performance Machine, Belt Drives Ltd, Street & Competition, Traci Dynamics, Simpson Race Products, Nitrous Express, APE, EK Chain, Arias Pistons, R/D Spring Corp, Autolite, MSD, Protect ALL, Whipple Industries, Cometic Gaskets, B&J Transmission, Carolina Cycle, L.A. Sleeve, PJ1 Nology Engineering, Mickey Thompson Tires, Corbin Seats, Stark Masonry, and Valco