McBride Racing: Post Valdosta

Six-time AMA/Prostar Top Fuel champion Larry earned his 41st career victory at the season-opening Bikeweek Nationals from Valdosta, GA, March 5th-6th.
"It feels great to start the season this way," McBride, who only lost one race in 2004, said. "Our team did a great job picking right back up where we left off. I'm very optimistic."
McBride qualified on the pole position with a conservative 6.53 at 187 mph, shutting off the throttle 4 seconds into the run.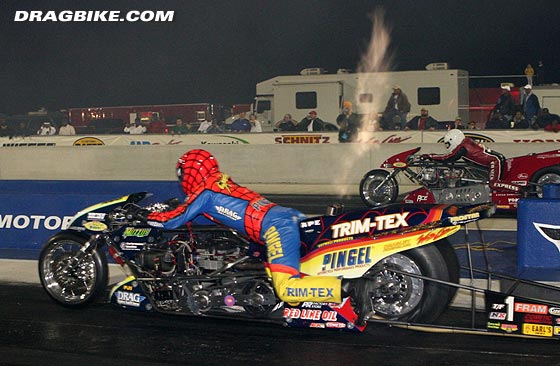 "Our wind meter was reading 29 mph gusts," McBride said. "We weren't taking any chances. I was shutting off at the 1/8th mile."
In round no. 1 of eliminations McBride was awarded a bye run and smoldered his giant drag slick, coasting to an off pace 9.02.
"The wind quit blowing so we got greedy and tried to hop it up," McBride said. "We just gave it too much too soon and it smoked the tire."
In the semis McBride laid down low elapsed-time of the event with a stunning 6.17 at 223 mph to defeat Tommy Sloan's 7.93 at 140 mph. Afterwards McBride explained how sometimes it's necessary to take power out of the bike to improve traction.
"We took a little nitro and ignition timing out of it and it responded really well," McBride said. "We didn't want to overpower the track again."
In the final McBride was forced to lift off the gas after getting out of shape, but still reached the finish line first with a 6.50 at 178 mph to beat out a wounded Chris Hand's 7.36 at 122 mph.
"I got over in some bumps and I had to lift," McBride said. "We were lucky to get the win. Chris is always tough to beat."
McBride says the new facility in Valdosta was top-notch and he looks forward to going back next year to try to lay down a five.
"It's a beautiful track," McBride said. "It certainty has the potential to be a very fast track if we can find the right groove."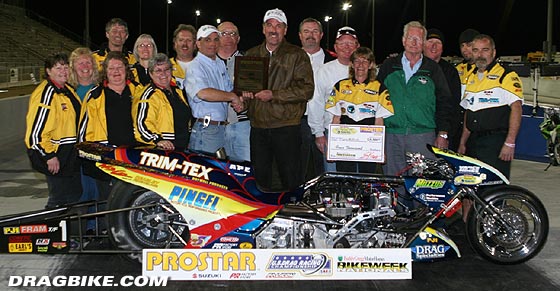 Throughout the weekend McBride and customer Jimmy Brantley debuted their newest Top Fueler.
"The bike came out nicely. Jimmy is a great competitor and he is getting more and more comfortable on the bike," McBride said. "I look for him to be a force real soon."
Next up for Team McBride will be the MTC Elmer Trett Nationals from Atlanta, GA, April 2nd-3rd.
"We're going to take the bike all apart and get ready," McBride said. "We're definitely capable of running some 5s in Atlanta. The track has always been very good to me."
McBride stressed that he would simply not be able to race if it were not for the support of these fine companies.
McBride thanked; Pingel Enterprise, Trim-Tex Drywall Products, Drag Specialties-Parts Unlimited, Red Line Synthetic Oil Corporation as well as his other sponsors:
Vance & Hines Motorsports, Muzzys Performance, Web-Cam, Kibblewhite Precision Machine, Vanson Leathers, Performance Machine, Belt Drives Ltd, Street & Competition, Trac Dynamics, Simpson Race Products, Nitrous Express, APE, EK Chain, Arias Pistons, R&D Spring Corp, Autolite, MSD, Protect ALL, Whipple Industries, Cometic Gaskets, B&J Transmission, Carolina Cycle, L.A. Sleeve, PJ1 Nology Engineering, Mickey Thompson Tires, Corbin Seats, Stark Masonry, and Valco.