McBride Invites Friends and Sponsors to Dinwiddie


The quickest and fastest motorcycle dragracer on the planet Larry McBride is poised for performance at on one his favorite racers of the year, the upcoming AMA/Prostar Lucas Oil Spring Nationals from, Dinwiddie, VA, April 30th-May 1st.
The six-time Top Fuel champion has reset the national elapsed time record at this track each of the last three seasons, including his notable blast of 5.87 last season.
"It's an awesome track," McBride said. "It is very smooth and has a ton of stopping room." Plenty of stopping room is a racer's best friend when running incredible 240 mph speeds.
McBride has won this event each of the last three years, yet despite all of the on-track achievements McBride says this race is close to his heart for another reason.
"This race is only an hour from my house," McBride who resides near Newport News, VA said. "We throw a big party for all of our family, friends, and sponsors. It ends up being like a family reunion."
McBride will again host his annual appreciation party in one of the tower suites. As always the get-together will feature the delectable catering of the McBride sisters.
"They've been working on the feast for the last three weeks," laughed McBride. "We're really looking forward to it. I hope everyone can make it."
McBride is eager to hit the track again after an unusual first round loss at last month's 1/8th mile Elmer Trett Nationals from Atlanta, GA. Top Fuel ran only to half track because of a precarious 40 mph wind.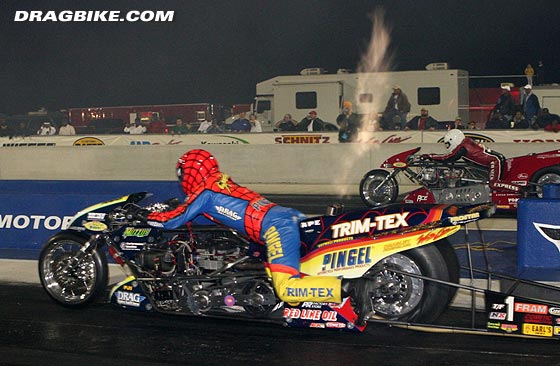 "We were at a disadvantage running on the 1/8th because my bike runs so hard on the top-end. It was still the right decision. It was not safe to run the quarter," McBride said. "We ended up smoking the tire on the run and got beat."
McBride still leads the field in the 2005 championship points chase and is in hot pursuit of his 7th number-one plate.

McBride invites all of his friends and sponsors to join for his annual appreciation party.
McBride thanked; Pingel Enterprise, Trim-Tex Drywall Products, Drag Specialties-Parts Unlimited, Red Line Synthetic Oil Corporation as well as his other sponsors:
Vance & Hines Motorsports, Muzzys Performance, Web-Cam, Kibblewhite Precision Machine, Vanson Leathers, Performance Machine, Belt Drives Ltd, Street & Competition, Trac Dynamics, Simpson Race Products, Nitrous Express, APE, EK Chain, Arias Pistons, R&D Spring Corp, Autolite, MSD, Protect ALL, Whipple Industries, Cometic Gaskets, B&J Transmission, Carolina Cycle, L.A. Sleeve, PJ1 Nology Engineering, Mickey Thompson Tires, Corbin Seats, Stark Masonry, and Valco.