McBride Runs Quickest Ever

Five-time AMA/Prostar Top Fuel champion Larry McBride recorded the quickest quarter-mile dragbike pass of-all-time with a stunning lap of 5.876 at 244 mph at the Lucas Oil Spring Nationals from Richmond, VA. May 1st-2nd.
"It was one of the most unbelievable rides I ever had. It was awesome," McBride said. "It felt nice and smooth. When I crossed the finish line I knew it was a five-second run but I had no idea it was a record. I knew I was going over 240. It wasn't until after the run that I realized, wow that was scary fast."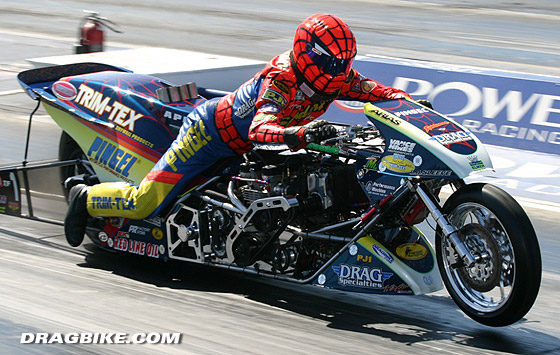 In round-one of eliminations McBride defeated Jay Turner with an impressive 5.99, marking the third straight year McBride has hit the five-second zone in Richmond.
"For some reason our bike just loves Virginia Motor Sports Park," McBride said. "My hat is off to the entire crew there for giving us an awesome racetrack."
McBride's incredible performances were viewed by his friends, family, and sponsors from his catered track suite in the timing tower.
"The best part of the weekend was having everyone there," McBride said. "It was like a family reunion. I'm glad we were able to put on a good show."
McBride attributed much of the performance to his new state-of-the-art cylinder head from Vance and Hines.
"Our new Vance and Hines motor combinations were running great," McBride said. "We've spent a lot of time searching for performance. With this new set-up there is potential to go even quicker."
As McBride lined up with Chris Hand for the Top Fuel final, a heavy rained storm moved in and unfortunately the race was postponed.
"We were ready to run that next round," McBride said. "I think we could have backed it up."
McBride will have a chance to back the record up at the PR Factory Store Nationals and the continuation of the Lucas Oil Nationals, from St. Louis MO, June-5th-6th.
McBride thanked; Pingel Enterprise, Trim-Tex Drywall Products, Drag Specialties-Parts Unlimited, Red Line Synthetic Oil Corporation as well as his other sponsors: Vance & Hines Motorsports, Muzzys Performance, Web-Cam, Kibblewhite Precision Machine, Vanson Leathers, Performance Machine, Kawasaki USA, Belt Drives Ltd, Street & Competition, Trac Dynamics, Simpson Race Products, Nitrous Express, APE, EK Chain, Arias Pistons, R&D Spring Corp, Autolite, MSD, Protect ALL, Whipple Industries, Cometic Gaskets, B&J Transmission, Carolina Cycle, L.A. Sleeve, PJ1 Nology Engineering, Mickey Thompson Tires, Corbin Seats, Stark Masonry, and Valco.