McBride's Dominance Continues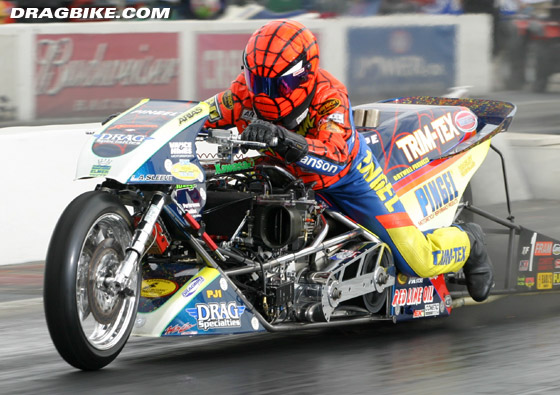 For the second consecutive race, five-time AMA/Prostar Top Fuel champion Larry McBride recorded the quickest quarter-mile dragbike pass of-all-time with a stunning lap of 5.86 at the PR Factory Store Nationals from St. Louis, MO, June 5th-6th .
"I was blown away by that time slip. I feel blessed," McBride said. "I'm having the time of my life. The bike just keeps performing."
"The track was in great shape, Tony Williams came in and worked his magic," McBride said. "We left with a 1.01 60-foot time and a 3.84 eighth mile time. It takes my breath away every time I ride this thing."
McBride picked up two event victories over the double header weekend, which included last May's rain-postponed Lucas Oil Spring Nationals.
"The 5.86 was awesome, but I'd have to say the best part of the weekend was coming away with two wins," McBride said. "Double points and double purse, you have to love that."
McBride has now won 13 consecutive AMA/Prostar events and has not been defeated in eliminations since November of 2002. This is the longest winning streak in the history of the organization for any category.
"It's an amazing feeling," McBride said. "However, every time I win a race I feel like we have to go back to the shop and work harder. The pressure is building and the competition keeps getting better."
The McBride will look for his 14th consecutive event victory at the forthcoming AMA/Prostar Norris Cyclefest from Norwalk, OH, June 26th-27th.
"There isn't much time between these two races and we have an awful lot of work to do," McBride said. "We go through every nut and bolt on this bike between races. I'm fortunate to have such a great crew and such awesome sponsors. Without them none of this would be possible. When you have good people surrounding you, it makes winning possible."

McBride thanked; Pingel Enterprise, Trim-Tex Drywall Products, Drag Specialties-Parts Unlimited, Red Line Synthetic Oil Corporation as well as his other sponsors: Vance & Hines Motorsports, Muzzys Performance, Web-Cam, Kibblewhite Precision Machine, Vanson Leathers, Performance Machine, Kawasaki USA, Belt Drives Ltd, Street & Competition, Trac Dynamics, Simpson Race Products, Nitrous Express, APE, EK Chain, Arias Pistons, R&D Spring Corp, Autolite, MSD, Protect ALL, Whipple Industries, Cometic Gaskets, B&J Transmission, Carolina Cycle, L.A. Sleeve, PJ1 Nology Engineering, Mickey Thompson Tires, Corbin Seats, Stark Masonry, and Valco.