McBride's Makes History in St. Louis

Five-time AMA/Prostar Top Fuel champion Larry McBride dominated the season-opening MRE Nationals from Gainesville, FL, collecting an unprecedented 10th consecutive Prostar event victory.

"It's an amazing feeling," McBride said. "We just keep giving it everything we got."
McBride motored his near 18-foot-long nitro Kawasaki to the pole position with an impressive blast of 6.20 at 234 mph.
"It took us a little while to figure out the race track," McBride said. "The traction was actually a lot better than we expected it to be. Gainesville Raceway gave us a great surface."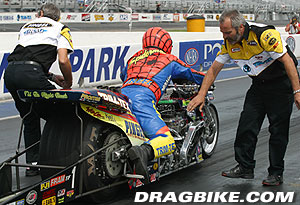 In eliminations McBride defeated Winnebago backed Chris Hand with a 6.26, Harley pilot Drums Brancacchio with a 6.05, en route to meeting up with Vance & Hines rider and defending AHDRA champion Doug Vancil in the final.
Vancil, who in a pre race interview jokingly called McBride "The Spider Boy", was first off the line but McBride's track blistering 6.02 at 238 mph was too much for Vancil's 6.50 at 208 mph.
"Doug is a great competitor and we knew we needed to put up a good number to get by him," McBride said. "It was nice to have the Harley guys at the race. We love to joke around. I told Doug he wasn't quite tall enough to ride my bike."
Prior to the race at the AMA/Prostar awards banquet team member Steve McBride was awarded the Pro Crew Chief of the Year award for his mechanical excellence last season. Likewise Team McBride won the Pro Race Team of the Year award for their dominance in 2003 where it won all nine AMA/Prostar races.
"It was quite an honor," McBride said. "They deserve it. I have the greatest crew in the world."
McBride now looks to the MTC Elmer Trett Nationals in Atlanta, GA, April 3rd-4th. McBride has run into the five-second zone at over 240 mph at this venue.
"We'll go through every part of the bike and show up to Atlanta with fresh set of motors," McBride said.
Watch McBride on the Inside Drag Racing ESPN2 television coverage of Atlanta on April 11th at 11:30am.
McBride thanked all of the dedicated sponsors which committed to the 2004 season. "Without the help I get from my sponsors none of this would be possible," McBride said.
McBride thanked; Pingel Enterprise, Trim-Tex Drywall Products, Drag Specialties-Parts Unlimited, RedLine Synthetic Oil Corporation as well as his other sponsors:
Muzzys Performance, Web-Cam, Kibblewhite Precision Machine, Vanson Leathers, Performance Machine, Kawasaki USA, Belt Drives Ltd, Street & Competition, Trac Dynamics, Simpson Race Products, Nitrous Express, APE, EK Chain, Arias Pistons, R&D Spring Corp, Autolite, MSD, Protect ALL, Whipple Industries, Cometic Gaskets, B&J Transmission, Carolina Cycle, L.A. Sleeve, PJ1 Nology Engineering, Mickey Thompson Tires, Corbin Seats, Stark Masonry, and Vance & Hines Motorsports.
McBride extended a special welcome to new sponsor Lloyd Sturtevant of Valco.