McBride Victorious in Atlanta

Five-time Top Fuel champion Larry McBride collected his unprecedented 11th straight AMA/Prostar win among windy, chilly weather at the MTC Elmer Trett Nationals from Atlanta, GA, April 2-3.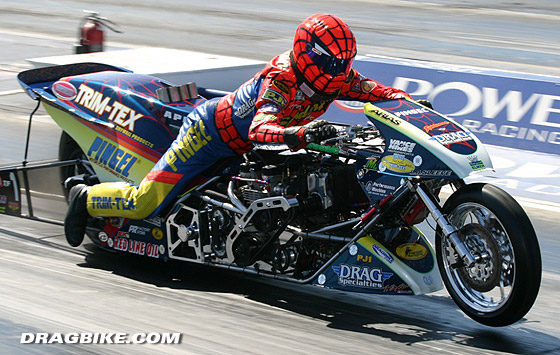 "It was an awesome weekend," McBride said. "We unloaded out of the box and ran a 5.97 into a strong headwind. I'm not sure how we did it."
En route to the event victory, McBride enjoyed two-solo passes running 6.01 and 6.39, and defeated Chris Hand in the final with a 6.04 at a rapid speed of 240 mph.
"The weather was miserable and windy but our Vance and Hines motors were running really good."
The win was the 35th AMA/Prostar event victory of McBride's career and keeps him unbeaten on the season.
"I feel like the bulls-eye keeps getting bigger and bigger on my back. We know we have to keep working harder and harder to keep our performance level where it's at," McBride said.
McBride couldn't fully enjoy the success because he was preoccupied with the memory of his mentor Elmer Trett and the unexpected passing of his friend and fellow racer Jim McClure.
"It was a tough weekend because we we're thinking about Elmer, then we got the terrible news that Jim passed away," McBride said. "It was really nice to have the entire Trett family at the track and my heart goes out to the McClure family."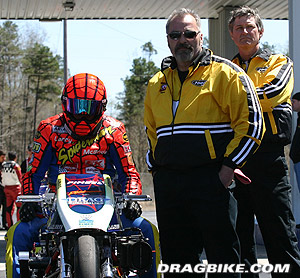 Next up for Team McBride is the AMA/Prostar Lucas Oil Spring Nationals from Dinwiddie, VA, May 1-2. This is the same track the McBride set the AMA/Prostar elapsed-time record at an incredible 5.895 two years ago.
"We're going to go all through the bike as usual. We're also going to bring two more Vance and Hines motors with us."
McBride invites all of his sponsors and friends to enjoy the race from his annual catered appreciation party in the tower suite.
"We'll have a good time as usual and we're going to try our best to put on a good show for everybody." McBride thanked all of the dedicated sponsors who committed to the 2004 season. "Without the help I get from my sponsors none of this would be possible," McBride said.
McBride thanked; Pingel Enterprise, Trim-Tex Drywall Products, Drag Specialties-Parts Unlimited, Red Line Synthetic Oil Corporation as well as his other sponsors: Vance & Hines Motorsports, Muzzys Performance, Web-Cam, Kibblewhite Precision Machine, Vanson Leathers, Performance Machine, Kawasaki USA, Belt Drives Ltd, Street & Competition, Trac Dynamics, Simpson Race Products, Nitrous Express, APE, EK Chain, Arias Pistons, R&D Spring Corp, Autolite, MSD, Protect ALL, Whipple Industries, Cometic Gaskets, B&J Transmission, Carolina Cycle, L.A. Sleeve, PJ1 Nology Engineering, Mickey Thompson Tires, Corbin Seats, Stark Masonry, and Valco.