Storybook Weekend for the McBride


Larry McBride had a career weekend at the AMA/Prostar Spring Nationals from his home track near Richmond, VA. The McBride came away with two wins while recording the quickest dragbike run of-all-time with a sensational 5.88.

"It was an unreal weekend," McBride said. "To do it here at home was even more incredible."

The team ran several 6-0s during testing on Friday. McBride and crew stayed up until 4:30 AM preparing the bike for the next day.
The team's hard work paid off on day one of eliminations as McBride defeated Tommy Smith with a 6.04 to Smith's 6.91. McBride had a scary moment at the finish line when the blower belt came off and struck him in the arm at 197 mph.

"When the belt hit me I got all of the breath knocked out of me," McBride said. "The belt hit me in the arm and we are still trying to figure out how it knocked the wind out of me."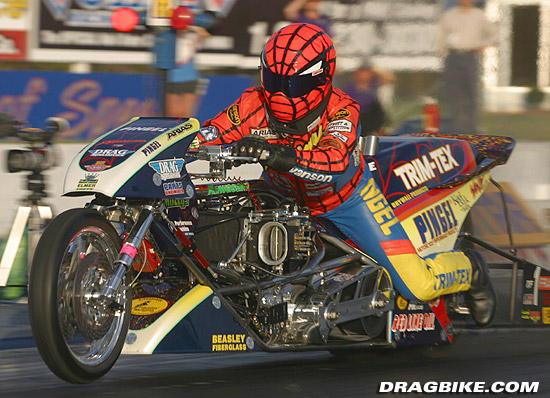 McBride met up with long-time nemesis Ron Webb in the final of the postponed Atlanta race and picked up his first event win of the season with a remarkable 5.98 to Webb's 10.65. Despite the arm injury, the McBride obviously did not have any problems hanging on as he went through the traps at 243 mph.

"It was an awesome pass," McBride said. "The bike is pretty easy to handle under 220 mph. Anytime you get over 230 mph you're in a different area trying to keep control, and over 240 it's just a whole different territory."

The second day of eliminations had the McBride on the pole once again, with a bye run in round number one. With sponsors, friends, and family looking on from the catered suite in the timing tower and the grandstands, McBride clicked off the quickest motorcycle run of-all-time with a track blistering 5.88 at 218 mph. The data from the on-board computer showed that there was actually more left in it because McBride was forced to shut off the throttle 5.2 seconds into the pass.

"I was very happy with the run," McBride said. "This is exactly what we have been striving for. I would like to run 5-80s under 220 mph all day long."

In round two McBride advanced to his second final of the weekend when he defeated Ziggy Stewart's Nitro Harley with a 5.98 at 243 mph.
"The amazing part is that we looked at the data after going 5.98 at 243 and saw several areas where we could improve," McBride said. "It's funny because I get that from the fans too." Larry joked, "I go out and run a 5.98 and people come over and ask me, what's wrong?" McBride collected his second win of the weekend edging out Ron Webb with a 6.58, after being forced to clip the throttle when the bike got out of the groove.

"We had a 1.02 sixty-foot time in the final and were on our way to a 5.83-5.84 pass," McBride said. "The bike got a little out of shape on me and I had to shut off at 3.6 seconds into the run."

McBride was ecstatic after the weekend and is counting on even quicker elapsed-times in the near future.

"The scary part is that, based on all of our data this bike has so much more in it," McBride said. "There is no doubt that we have the power to run 5-50s. As a drag racer that's what keeps me going to the next race, there is always room to improve."
McBride thanked his crew for all their hard work and support. "My brother, my wife, and Roland Stuart, are awesome, you can't get any better than the crew I have," McBride said.

Likewise McBride thanked all of his sponsors and looks forward to seeing them at upcoming races. McBride expressed gratitude toward; Pingel Enterprise, Trim-Tex Drywall Products, Drag Specialties-Parts Unlimited, RedLine Synthetic Oil Corporation as well as his other sponsors:

Muzzys Performance, Web-Cam, Kibblewhite Precision Machine, Vanson Leathers, Performance Machine, Kawasaki USA, Belt Drives Ltd, Triton Corp (Kool-Bak), Street & Competition, Trac Dynamics, Simpson Race Products, Nitrous Express, APE, EK Chain, Arias, R&D Spring, Autolite, MSD, Protect ALL, Whipple Industries, Cometic Gaskets, B&J Transmission, Carolina Cycle, L.A. Sleeve, PJ1 Nology Engineering, Mickey Thompson Tires, Corbin Seats, Stark Masonry, and Vance & Hines Motorsports.