McBride Goes 4 for 4


After another dominating performance, Larry McBride kept his 2003 unbeaten streak intact when he picked up his forth victory of the season by defeating Harley-mounted Mike Romine in the final of the AMA/Prostar Norris Cyclefest from Norwalk, OH.
For the 20th time in his career, McBride qualified number-one with a blast 6.26 at 223 mph in session number-three.
"It was the fastest we had ever run at Norwalk," McBride said. "I ended up going off the track and put the front-end in the weeds."
McBride had a bye in round-one but struggled to get down the racetrack cleanly as he slowed to a 10.14 at 83 mph.
"In the beginning of the weekend the bike kept dropping a cylinder at about 60 feet," McBride said. "My hat is off to my brother Steve and Roland Stuart for correcting the problem."
AHDRA veteran Mike Romine defeated Chris Hand on the other side of the bracket with a 6.62 at 217 mph, scoring lane choice over the McBride in the final. The stage was set for a classic Kawasaki versus Harley Davidson final round as Team McBride scurried back to the pits to prepare the bike.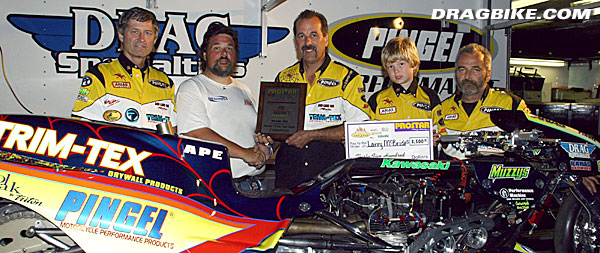 In the final, Romine clicked-off a respectable 6.66 at 198 mph, but could not match McBride's new track record of 6.01 at 242 mph. As McBride's win-light came on, Team McBride stood motionless in the lanes anxiously shouting to chief starter Tony Williams, "Did he stop, did he Stop?!" After Williams nodded his head yes, the delayed celebration began with crew chief Steve McBride pumping his fist in the air.
When the dust settled McBride had extended his points lead to 162 over Ron Webb and collected his 27th career victory.
"It was an unbelievable weekend," McBride said. "I'm just thankful that I have such an awesome crew and such great sponsors that make this possible."
McBride expressed gratitude to all of his sponsors and looks forward to seeing them at upcoming races. McBride thanked:
Pingel Enterprise

Trim-Tex Drywall Product

Drag Specialties-Parts Unlimited

RedLine Synthetic Oil Corporatio