McBride Clinches Forth Straight Championship
Top Fuel motorcycle veteran Larry McBride clinched his fifth AMA/Prostar championship after winning the Schnitz Fall Nationals from Montgomery, AL. McBride has now won four consecutive championships and is just a number-one plate away from tying Tony Lang's unprecedented record of five consecutive championships.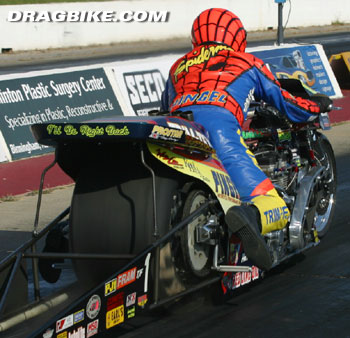 Due to a bumpy Alabama racing surface, McBride's successful weekend didn't go quite as smoothly as the five-time champ had hoped.
"I'm glad it's over with," McBride said of the weekend. "The track was very bumpy with hardly any traction. I crossed the centerline twice this weekend and I never do that. Something was wrong, and I don't think it was me."
McBride defeated Ron Webb in a tire-smoking final with a 6.66 to Webb's 6.95. "We had to keep taking power out of the bike all weekend long, which actually makes these things handle worse," McBride said. "We were hitting bumps and the tire would come off the track and speed up. When it came back down we'd smoke it. It was scary. I dog walked through the lights a couple of times."
The event victory is the McBride's seventh of the season and keeps his 2003 unbeaten streak intact. "Seven wins and six pole positions; it's an unbelievable feeling," McBride said. "But we're not packing it in this season because we have the championship. We're going to tune the bike up for Gainesville and go after that nine-race undefeated season. If we lose it certainly won't be because we aren't trying, I guarantee you that."
Spider now prepares for the final stop on the AMA/Prostar tour in Gainesville, FL, November 13th-16th. Due to the postponement of the season opener, this race will be a double header, contesting both the MRE Sunshine Nationals and the World Finals. McBride will have plenty of competition, as at least eight "fuelers" are expected to show up.
McBride expressed gratitude to all of his sponsors and looks forward to seeing them at the World Finals. McBride thanked; Pingel Enterprise, Trim-Tex Drywall Products, Drag Specialties-Parts Unlimited, RedLine
Synthetic Oil Corporation as well as his other sponsors:
Muzzys Performance, Web-Cam, Kibblewhite Precision Machine, Vanson Leathers, Performance Machine, Kawasaki USA, Belt Drives Ltd, Triton Corp (Kool-Bak), Street & Competition, Trac Dynamics, Simpson Race Products, Nitrous Express, APE, EK Chain, Arias Pistons, R&D Spring, Autolite, MSD, Protect ALL, Whipple Industries, Cometic Gaskets, B&J Transmission, Carolina Cycle, L.A. Sleeve, PJ1 Nology Engineering, Mickey Thompson Tires, Corbin Seats, Stark Masonry, and Vance & Hines Motorsports.