2002 AMA/Prostar Star Racing Nationals - Atlanta Dragway
McBride Takes Win, Runner-Up and sets Speed Record
Larry 'McBride' McBride won only half of the two races run at Atlanta Dragway this past weekend but he doubled up on his record count as he now holds the Top Fuel Elapsed Time and Speed records in AMA/Prostar competition.

In addition to the Star Racing Nationals held at the Commerce, Georgia, racing facility this weekend, AMA/Prostar also continued the MRE Nationals originally run in Gainesville, Florida, in March which was postponed due to rain.

McBride, riding his Kawasaki Fueler, scored the pole position in both events, made the final for the MRE Nationals and won the Star Racing Nationals. The big news is that McBride reset the Top Speed record held by the late Elmer Trett at 235 mph since 1996. McBride holds the AMA/Prostar elapsed time record at 5.969 set last year in Atlanta.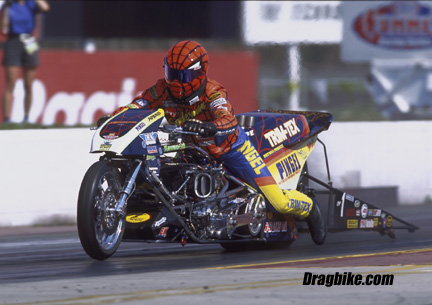 "It was very emotional for me to be able to set the record Elmer held for so long," said McBride. "He is the reason I race Top Fuel Bikes. He was my mentor. I always wear and Elmer Trett T-shirt when I ride so he is with me on every pass."

McBride qualified number one for the Gainesville event with a time of 6.34 seconds at 205 mph. McBride made the final and went up against Tommy Smith, who rides a bike built and ridden by Trett. Both bikes overpowered the track and smoked the huge rear tires with Smith able to cross the finish line first.

"Runner-up is not so bad," said McBride. "You can't win them all, but you sure can try."

McBride and brother Steve, who is the crew chief on the bike, stepped up their performances for the Atlanta event, qualifying again in the number one position but this time with a 6.09 elapsed time at 241.97 mph. Trett's five year old record fell in the first round of eliminations when McBride clicked off a strong 6.008 elapsed time at 243.38 mph.

McBride made the Atlanta final and faced off against Ron Webb. In a tight one McBride took the win 6.23 to 6.25.

"Ron ran very well this weekend," said McBride. "The final was a close one. We would have liked to run quicker but we will take getting to the finish line first any time."

Brother Steve added, "We told Tommy that he had luck on his side for the Gainesville final. We had the horseshoe for Atlanta. Overall we are pleased. The 243.28 mph was just a tick behind our fastest at 243.68. The 6.008 run was beautiful, the tune-up right on. I believe there's more in it."

"We had some problems with the bike wanting to go left all weekend," stated Larry. "Atlanta has a shorter shutdown area than the other tracks we run. Thank God we had good brakes from Performance Machine to stop the bike. We were also testing tires for Mickey Thompson Tires all weekend and I feel that helped us set the speed mark. I have to thank Pingel Enterprise, Trim-Tex, Drag Specialties-Parts Unlimited, Redline Oil, Web Cam, and Triton Corporation for being on board and allowing me to set National Records with their products. It was a great weekend, one of the best races put on by AMA/Prostar so far. My crew was great. Steve is the Man! I get to do the good part, I get to ride."

McBride looks forward to the next event on the AMA/Prostar Tour, the Spring Nationals at Virginia Motorsports Park in Richmond.

"Virginia is my home track so we will have a lot of friends and family there," said McBride. "It is also my favorite track to run. It is extremely smooth and extremely fast. It also has a very long shutdown area so we are really looking forward to opening the bike up. I feel really good about it."